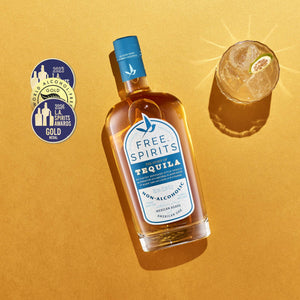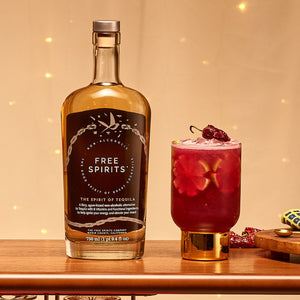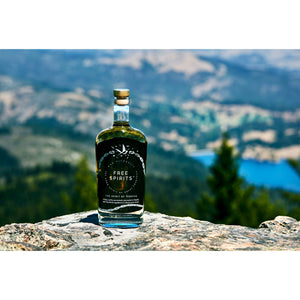 The Spirit of Tequila
®
Non-Alcoholic Tequila Alternative | 750 ml
The Spirit of Tequila is made in the spirit of the great oaky, vanilla-kissed Reposado Tequilas. A fiery, earthy non-alcoholic (less than 0.5% ABV) alternative to Tequila, The Spirit of Tequila is made with all natural flavors and functional ingredients to awaken your taste buds, help elevate your mood and recharge your body. With an earthy, spicy nose and a smoky, agave-forward palate, The Spirit of Tequila will ignite the moment and keep the conversation on the sunny side of the street. 750ml bottle.
I am in Mexico right now and I just spiked my limonada with the Free Spirits Co. "tequila" and am feeling fierce and completely sober. I love everything about this brand!
Lisa L.
My go-to when I want to make the nonalcoholic version of a fancy craft tequila cocktail, Free Spirits The Spirit of Tequila is solid and reliable no matter the context. Agave is the main flavor, slightly acidic with a big dose of green bell pepper and the slightest touch of sweetness, with a substantial but not overwhelming burn.
I love this one. Best NA Tequila on the market. One of the few NA spirits I can sip straight.
Degen S.
One of the few no-ABV spirits to nail that burn in the throat, Free Spirits' approximation of reposado tequila is surprisingly successful and a serious delight to sip — though it's been specifically designed to mix well in a margarita.
Absolute blown away by the Free Spirits tequila! The aroma and flavors are eerily close to a great reposado, and the overall mouthfeel and experience is just really solid. Having made many AF margaritas, this one was the best.
Ian B.
Margafreeta
For a margarita that'll tingle your taste buds and help lift your mood try this zero-proof spin on a margarita.
Ingredients
2 oz. The Spirit of Tequila
1 oz. fresh lime juice
¾ oz. agave nectar
2 slices of lime
kosher salt

Method
Rub a rocks glass or coupe with lime. Dip in salt.
Add 1 or 2 ice cubes to glass.
Fill shaker with ice, The Spirit of Tequila, agave nectar and lime juice.
Shake vigorously for approximately 20 seconds.
Strain into glass and garnish with a slice of lime.
FAQ
Sure, the same way that you know it's not really Tom Cruise jumping out of the helicopter into the burning building. But there you are, gripping the arm rest of your chair, enjoying the heck out of the action.
Use Free Spirits the way you'd use a traditional spirit. We're big believers that a great cocktail needs to have the warming burn and bite that is typically associated with alcohol. So each one of the Free Spirits are blended to balance flavor with bite.  That said, if you drink it straight, like any spirit, it'll leave some teeth marks.  But when mixed into your fav cocktail, we think it creates the perfect nibble for a slow-drinking cocktail.
Through a process called Distillate Reconstruction, each one of the Free Spirits is crafted by identifying that spirit's unique fingerprint (all of the raw materials, flavors and interactions that give a traditional spirit its unique flavor profile). Then we source those ingredients (like Blue Agave, White Oak and Juniper Berries) and distill them into natural flavors, extracts and botanicals. We then reconstruct that spirit, to form something much bigger than the sum of its parts. And, instead of a fermentation process that generates alcohol, we simply infuse the source liquid with nutrients like B Vitamins and energy to help enhance your mood, the social experience, and your spirit.
Part of any great cocktail experience is the way it makes you FEEL. So we started the Company with the question, "what if a cocktail made you happier AND healthier?". So, instead of Alcohol, we infuse each of our products with vitamins B3, B6 and natural Aminos like Taurine that your body naturally produces to aid in all kinds of good stuff, including helping your overall mood.
Nope - just one that involves more choice and balance. The truth is that we've gone through our ups and downs with alcohol. We love a great cocktail. We love going out with friends. And we love having a cocktail in hand that is this magical mix of crafted ingredients that come together, all for you in that moment. But what we have learned is that it's not always the alcohol that makes the moment and that there are times when alcohol is right and times where it's not. Free Spirits is for those who value choice without sacrificing the quality of their cocktail experience.
Yep. All our products are gluten free and vegan. And, we don't test on animals because have you ever seen a pig with a cocktail? It's ridiculous. Oh, and we're not a fan of cages. Free Spirits helps you break free from anything that may be holding you back to be your best self.
Since environments vary, we encourage you to store your Free Spirits in the refrigerator for longest shelf life.
We love a good cocktail. We love the ceremony of making it - or having a professional thoughtfully make it for us! The weight of the glass, the cut of the ice, the slow-drinking bite and the richness of the ingredients as they mingle with one another to form totally new flavors. And, if you're anything like us, you've figured out that it's not always the alcohol you crave. It's the ceremony. The social interaction. And it's knowing that what's in your glass has been painstakingly crafted from sources around the world by passionate people, all for the moment you're in right now.

You may also notice that we don't use the word "mocktail". It's no big deal but, for us, it conjures-up images of those overly sweet, syrupy, imposters, posing in a hurricane glass and wearing a whipped cream hat. Mocktails are missing something. They're "less than". Cocktails made with Free Spirits lift you up. They are "more than" your traditional cocktail.
5 Calories per serving.
Total Fat: 0g
Cholesterol: 0mg
Sodium: 0mg
Total Carbohydrate: 1g
Dietary Fiber: 0g
Total Sugars: 1g
Includes 1g Added Sugars
Protein: 0g
Niacin: 4.8mg
Vitamin B6: 0.51mg
Ingredients: Water, Natural Flavor, Sugar, D-Ribose, Citric Acid, Taurine, Niacin (Vitamin B3), Potassium Sorbate (as a preservative), Fruit and Vegetable Juice (for color), Pyridoxine (Vitamin B6). 
Still have questions? Visit our Help Section
Customer-uploaded media carousel. Press left and right arrows to navigate. Press space or enter to open more details.
Slide 1 selected
Kathryn B.

Verified Buyer

1 month ago

Smooth flavor

We used this with Squirt to make Palomas to have with our pork and pineapple salsa tacos. What a perfect pairing!

Patricia G.

Verified Buyer

2 months ago

Kristen L.

Verified Buyer

2 months ago

Yummy!!!

It's a great replacement!!!

Makes a great low cal Margarita

A paired of this with a low-calorie margarita mix from the ABC store. Very tasty.

Tequila with spirit!

I love it! You cannot tell is is alcohol free! Love creating different drinks with it!
Reviews Loaded
Reviews Added