Non-Alcoholic Expressions of the World's Greatest Spirits
Something new is coming soon.
DRINK MORE COCKTAILS AND LESS ALCOHOL
We're cocktail people. And we created Free Spirits to enable people like us to enjoy their favorite cocktails while controlling the amount of alcohol that's used in their creation - without sacrificing taste.
From a non-alcoholic cocktail when you replace your traditional spirit 1:1 with Free Spirits to "half & half" when you split the recipe between Free Spirits and its boozy cousin and so-on, Free Spirits give never-before-had control to the cocktail drinker.
BEYOND TASTE
We believe that a cocktail should have a benefit beyond the taste. So, instead of a fermentation process that generates alcohol, we infuse the source liquid with B Vitamins and Amino Acids that help elevate your mood, your energy and your social experience.
CLEAN SPIRITS
Through a process called Distillate Reconstruction, each one of the Free Spirits is crafted by identifying all of the raw materials, the interactions and the alchemy that give a traditional spirit its unique flavor profile.
We source natural ingredients like American White Oak, European Juniper, and Mexican Blue Agave and distill their essential flavors. We then reconstruct that spirit to form something much bigger than the sum of its parts. Find Free Spirits Near You
Available at Walmart, Total Wine, Safeway, HyVee, Boisson, Binny's, BevMo, and more.
FIND A STORE
Dial it in
For drinkers who want a non-alcoholic cocktail, simply replace the traditional spirit 1:1 with Free Spirits. If alcohol is still in the plan, Free Spirits gives a never-before-had control to 'dial-up' or 'dial-down' the alcohol in your cocktail - all the way from 'non-alcoholic' to 'just a touch of booze' to 'half and half' and beyond, without sacrificing taste or the integrity of the cocktail. All of our expressions are less than 0.5% ABV.
Cranberry Tea Punch
This punch is the perfect centerpiece for that big gathering around the thanksgiving table. 
The Tabby Cat
Curl up in front of the fire with this autumn sipper featuring the flavors and colors of the season. Persimmon and warm spice syrup join forces with fresh lemon juice and The Spirit of Gin.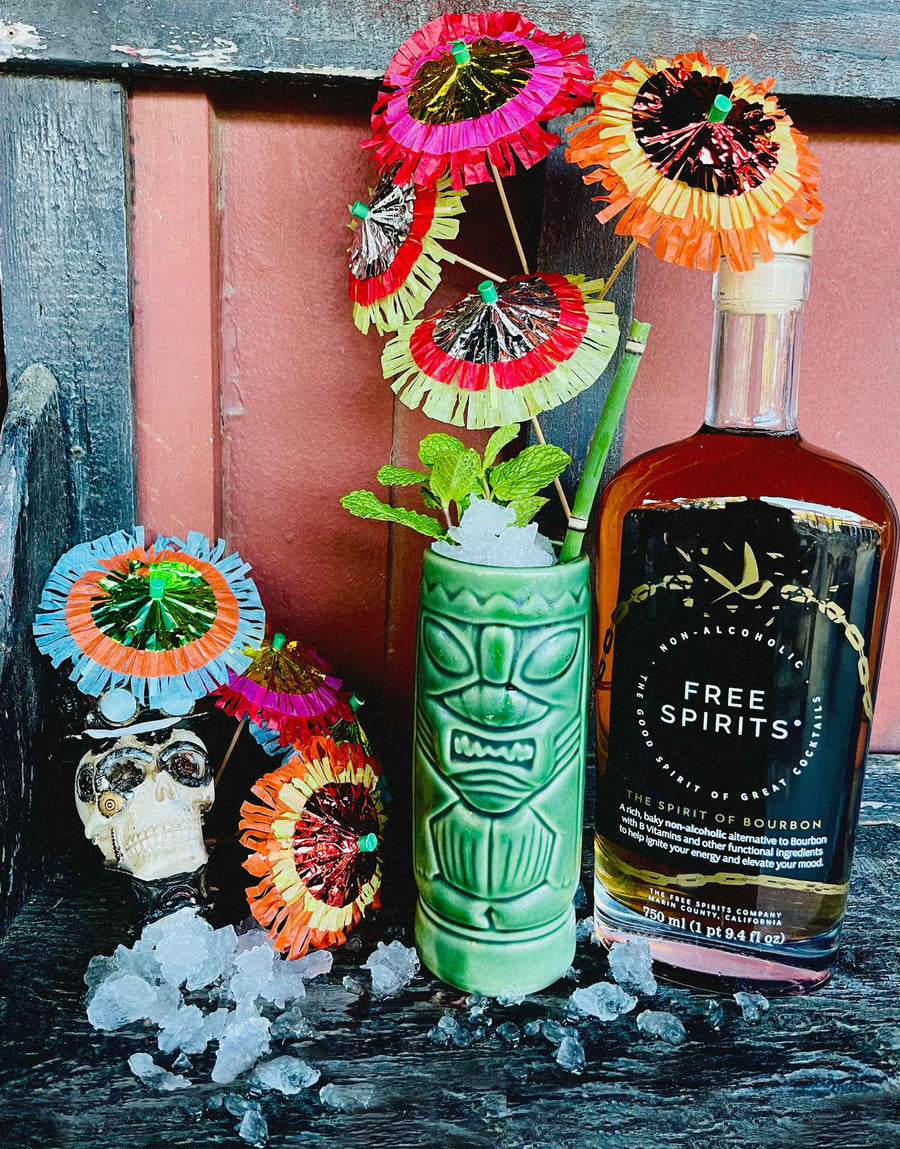 The Well Dressed Zombie
A classic tiki drink that packs a serious punch. Fear not, we've tamed this beast of a cocktail into a refined non-alcoholic delight.